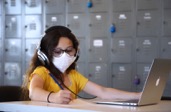 Our staff will be responsible for helping a group of 8-10 kids, ages 7-13, stay focused on their respective homework and class projects. Students will be spaced out as needed in their learning environment.
Remote learning hours will be Monday – Friday 8:30am – 3:00pm with a daily schedule of:
8:30am – 11:30am: Remote Learning
11:30am – 12:30pm: Gym Time
12:30pm – 1:00pm: Lunch (kids bring their own)
1:00pm – 1:30pm: Reading
1:30pm – 2:30pm: Remote Learning
2:30 – 3:00pm: Art, Coloring, Craft time
Lakeshore Academy will provide WiFi service, access to power, basic school supplies, a printer and paper.
Students will have access to the gymnastics gym for recess and P.E. led by one of our gymnastics instructors.
Register for Week1
Register for Week2
Register for Week3
Register for Week4
Register for Week5